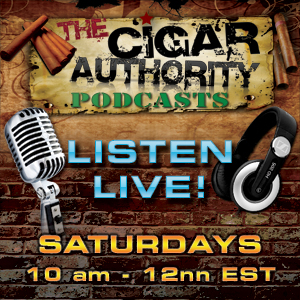 It's the Barry show and The Cigar Authority plays musical chairs. Barry slides into the hosting seat, with David Garofalo sliding over to Mr. Jonathan's seat who in turns slides into Barry's seat.
We will be joined by the owner of H New Media, Lawyer Frank Herrera as we look at the effects of FDA regulations. Are new cigars still being Trademarked? Is Substantial Equivalence a face? We will find out the answers to these questions as we fire up Taino from Serino Cigars.
We will also ask the question, what cigars to they really smoke? We will look at what each person smokes when the cameras are off. What did they buy, what are the best cigars when their money is on the line.
In the second hour we light up the Aladino Connecticut which has been released to a limited amount of retailers including Two Guys Smoke Shop.
Join us on The Cigar Authority, the most listened to cigar podcast in the world. We will have all the usual suspects including Versus, Offer of the Day, Cigar News and a peek into the Asylum.
The Cigar Authority is a member of the United Podcast Network and is recorded live in front of a studio audience at Studio 21 Podcast Cafe upstairs at Two Guys Smoke Shop in Salem, NH and as always you can find many of the cigars we discuss at http://www.2GuysCigars.com/.